From 1970 - 1996, Anthony Bianco amassed a collection of Hornby-Dublo and other makes which was described in the Christie's catalogue as "the most comprehensive known, and accepted as perhaps the finest in quality and condition."
However, a representative cross section of 'treasures' were retained along with a stunning pre-war Hornby-Dublo scene (please click here for details). These remaining 'gems' - the result of 30 years of collecting - are now to be finally released. As Michael Foster said in the introduction to the Christie's sale, "You cannot eat a good meal twice".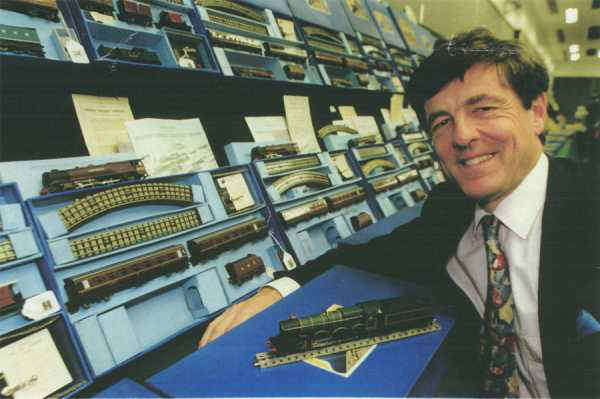 Anthony Bianco with his Hornby-Dublo sets sold at the Christie's Auction in 1996.
This is a unique opportunity to purchase the remaining 'treasures' from the Bianco Collection. This covers Meccano, Hornby 0 Gauge, Dinky Toys, Trix, Triang, Point of Sale and numerous other makes and varieties of models. Just use the menu bar on the left to navigate through the site. This is the end of an era in the life of Anthony Bianco. It would have been easy to put everything into auction but this would run the risk of many of the fine sets suffering damage during viewing. To protect the superb quality and to give collectors the widest possible access by individually lotting items he has produced this extensive website. (Some items have been grouped together to preserve 'sets' of interesting box and wagon varieties).

He hopes that all these items — the result of 30 years collecting — will go to good homes and will continue to be loved and cherished. Generally, the condition is equal or in some cases superior to those sold at the Christie's auction. Due to moving, the collection has been put into secure storage and will be released in stages during 2002.

Anthony Bianco is grateful to Christie's for use of photographs taken from the Bianco Collection Christie's Sale catalogue. Pictures are copyright Anthony Bianco / Christie's and must not be reproduced without their prior permission. To use a hyperlink, please click on the blue words. This will take you to another page.